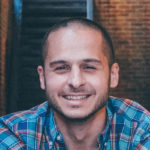 Ali Jafarian
---
Hey man,
Your buddy thought you'd make a great addition to our community.
In short, we're all about bringing world class humans together to go a little deeper than the day to day conversations around marriage and fatherhood.
If you're looking for a little more about who we are, there's an epic show on our Front Row Dads Podcast we did recently that talks about the group: Go here to listen.
Our events, pillars and our core values below, ultimately help keep us aligned with what matters most.
AUTHENTIC CURIOSITY | We ask big questions, and we're vulnerable when big questions are asked of us. No bull shit. No posturing. Just a deep willingness to be better. 
INTENTIONAL EXECUTION | We believe in deliberate participation with full presence. Our calendars reflect our priorities — making time for what matters most.
COMMUNAL DRIVE | We believe in the power of unified and aligned strengths. Everyone gives more than they take. We prop each other up through unconditional generosity.
If this lands with you and you're ready to dive in and make some incredible connections, go ahead and jump in below. All membership details will be broken down on the next page!
Jon Vroman – Family Man, Etc.
Join Now
Frequently Asked Questions
What does this group value?
The culture of our group is based on our core values of authentic curiosity, intentional execution, and communal drive. We believe that together we go further, faster. We honor our ethos of engagement to build true connections.
How do the Online Summits work?
Every 60 days starting in January we host this one-day (5 hour) virtual experience, each of the 6 summits will focus on one of our 6 community pillars. Memberships with Summit Series access can attend all summits or you may gift the ticket to any dad if you can't make it!
What can I expect in the members area?
The members area offers access to member-only content in the form of articles, videos and various other training resources. You also get member-only access to our events, member directory and other community offerings.
How does membership work?
Select the plan of your choice on the next page, after you complete checkout you're in! Easy. You can upgrade or cancel inside your account at anytime.
---
Join Now