FRD is, by a long shot, the single best investment I've ever made. And I've had multiple 7 figure exits from other investments. – Mike Wagner
OVERVIEW
The resources & recommendations below come from this summit's participants & special guests, thank you all for contributing! On this page you can find:
Complete Resource List
Speaker Replays
---
✪ Part I: Guided Meditation
Led by Eli Shine

Eli Shine, a psychologist, and a dedicated leader of our FRD (Fathers, Husbands, and Leaders) community, conducted a transformative guided meditation session during our weekly gathering. In this session, Eli skillfully led us through a series of deep breaths, creating a tranquil and centered space for all participants.
The essence of Eli's meditation was to guide us into a state of deep inner calm and presence. By encouraging us to focus on our breath, he helped us let go of distractions, worries, and stressors, allowing us to drop into a place of centeredness. This centering experience had a profound purpose – to enable us to be the best fathers, husbands, and leaders we can be in our lives.
Through Eli Shine's meditation, we learned the power of mindfulness and the significance of regularly returning to this place of inner calm and balance. Doing so enhances our ability to approach our roles and responsibilities with clarity, patience, and authenticity, ultimately becoming better individuals and contributing positively to our families and communities. Eli's guidance left us feeling refreshed, inspired, and ready to face the challenges of life with renewed vigor and a deep sense of purpose.
✪ Holding Space for Emotions
Led by Ali Jafarian

Ali Jafarian details his journey of self-discovery and the importance of emotional intelligence (EI) in personal and professional life. Ali Jafarian shares his personal story of how he struggled to balance his life as a father, husband, son, brother, friend, and entrepreneur.
Despite holding these titles, he felt he wasn't serving them well due to a lack of awareness of his emotions and burnout. His turning point came after attending a retreat where he learned about the importance of EI. This experience transformed his life, helping him establish deeper connections with his family and become more effective in his businesses.
The presentation emphasizes that emotions are a fundamental part of being human. It discusses four core emotions: anger, fear, sadness, and joy, explaining how each emotion serves a purpose, such as signaling a need for change (anger), revealing truth (fear), facilitating acceptance (sadness), and fostering gratitude (joy). Jafarian stresses that emotions are not inherently good or bad but contain internal wisdom that, when embraced, can lead to personal growth and better relationships.
Key takeaways include the importance of awareness of one's emotions, understanding their purpose, and learning how to respond constructively. The document also highlights the significance of emotional intelligence in enhancing personal and professional life. It concludes with an invitation to a self-discovery immersion program offered by Jafarian, further exploring these concepts.
✪Three Discoveries to Free Your True Self
Led by Gino Wickman

At the recent summit, Gino Wickman captivated the audience with a transformative presentation that delved into the essence of personal and professional fulfillment. Wickman introduced the "TRUE SELF MODEL," a powerful framework symbolized by an infinity loop, encapsulating the continuous journey between creating impact and finding peace. He eloquently conveyed how true impact is not just about external achievements but also about aligning with our inner world, where self-trust and intuition reside.
Wickman further explored the dynamics of decision-making through his "3 Discoveries Model." He challenged attendees to consider whether their choices stem from a place of love or fear, emphasizing the significance of tapping into our "True Self" and recognizing our "Pure Energy." He spoke about overcoming "Blocked Energy" and fostering "Awareness" to ensure that our decisions reflect our authentic selves.
Throughout the session, Wickman's message was clear: Embrace your individuality ("Let your freak flag fly"), and strive for a balance that doesn't compromise inner peace for outward success. His presentation was a call to action and an invitation to introspection—a reminder that true freedom and creativity emerge when we are in harmony with our true selves.
The summit, enriched by Wickman's insights, left participants with actionable strategies for achieving greater effectiveness in their lives and careers, fostering an environment where freedom, creativity, and impact can flourish in concert.
About Gino: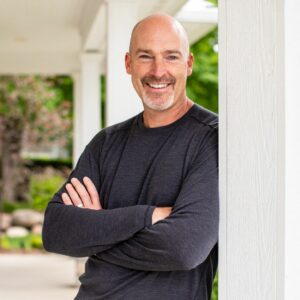 Gino Wickman is a well-known figure in the business and entrepreneurial world, celebrated for his expertise in helping businesses achieve growth and efficiency. He is the founder of EOS Worldwide, an organization dedicated to empowering entrepreneurs and leaders to strengthen their companies. Wickman's most notable contribution is the development of the Entrepreneurial Operating System® (EOS®), a practical method for helping companies achieve greatness.
He is also a prolific author, with his book "Traction: Get a Grip on Your Business" standing out as a must-read for entrepreneurs. This book introduces the EOS concept and has been instrumental in guiding countless business leaders toward streamlined operations and increased profitability.
Wickman's approach combines practical tools with simple concepts to drive businesses forward. He's known for his engaging speaking style, offering thought-provoking and actionable insights. His work has significantly impacted the entrepreneurial community, making him a sought-after speaker and advisor in business circles.
My whole perspective has changed in a few short months. I am so eager to be on this journey. – Tyler Wilkins