WHAT IS A BAND?
A band is a group of guys, up to 8 members, who commit to consistent and candid conversations, either in person or virtually. Bands can be local, where members meet in person, or virtual, where members meet by video/phone. Members of a band establish deep trust, which leads to meaningful conversations, offering new perspectives, clarity, someone to catch your blind spots, and true accountability. You can start one at any time, or you can seek out an existing band to join. Bands start/stop, and operate based on member created/enforced rules.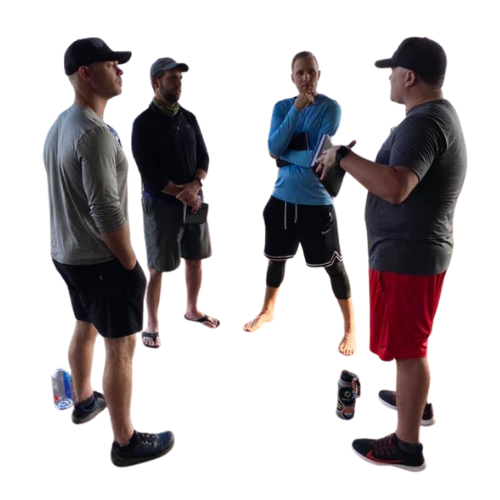 The mission of our meetups is to help hold one another accountable to being the best husbands and fathers we can be. It is okay to mess up and to admit failure; we are all human. The goal is to be as open and honest as possible to create an environment of complete vulnerability and trust. We always need to have each other's backs and be there to support one another in tough times and celebrate one another in good times. Thanks for your commitment to this group and your desire to be intentional in becoming a better husband and father.
---
The Band Program is offered to our Summit Series & VIP Members.
If you are at Level 1 and would like to join a band you can update your plan here.
---
HOW TO JOIN A BAND
 [GET STARTED] Complete the Band Commitment Agreement form to confirm your interest and readiness to be in a band. Within 72hrs you will be contacted with your next steps. Have more questions about the program? Email Rachael@frontrowdads.com
---
BAND COMMUNICATION CHANNELS
Zoom – for hosting Band Practice
TELEGRAM – for offline communication
---
GENERAL BAND PRACTICE STRUCTURE
In a typical 2-hour meeting, the most basic structure is…
20 min — Casual conversation. Just "Catching up" to warm up the meeting.
120 min — Each guy takes 20 min to answer two questions OR choose from the Sample Discussions below
– What's going well? What's not great, and what do you want help with?
20 Min — Clean up anything from the meeting, and choose/confirm the next meeting/call.
---
ETHOS OF ENGAGEMENT
e•thos ē′thŏs″ N. The disposition, character, or fundamental values peculiar to a specific person, people, culture, or movement.
YOU DO YOU.
No time for BS. Let the drawbridge down.
SPEAK UP.
Share more than usual. If something is on your heart, just say it. Don't hide behind humility.
FACE YOUR FEARS.
Address that which you most want to avoid.
HOLD SPACE:
More questions, less prescriptions. Listen deeply. Suspend judgement.
NO COACHING:
Share from personal experiences and/or the experiences of others.
100% CONFIDENTIAL:
Nothing is ever repeated. Every conversation is private.
YES, AND.
Be real, not right. Respectfully add to the convo.
OWN THE EXPERIENCE.
The outcome is co-created based on how everyone chooses to show up, step up and speak up.